Find this product on Logos.com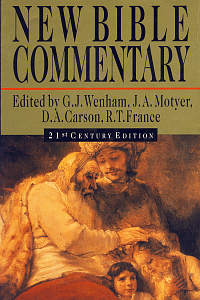 New Bible Commentary
21st Century Edition
Highlights
Voted one of Christianity Today's 1995 Books of the Year!
Offers 66 solid, concise, evangelical commentaries
Based on the New International Version
Product Details
In recent years there have been many new developments in Biblical scholarship, some challenging and some affirming scriptural accounts. This authoritative reference work brings together many of the finest scholars of our day to meet the needs of the church well into the next century.
This readable and accessible volume offers sixty-six solid, concise, evangelical commentaries—one on each book of the Bible. Also provided are introductory material on date, authorship, purpose, key themes and a to-the-point outline of each book. These are followed by passage-by-passage and verse-by-verse comments, based on the New International Version text, that opens up Scripture in light of the most recent developments in scholarship.
For forty years, the New Bible Commentary has set the standard for works of its kind. Now in this completely revised fourth edition (including over 80% new and updated material), the New Bible Commentary is positioned to maintain its standing as the leading one-volume commentary on the whole Bible well into the 21st century.
Endorsements
A book which will seriously enrich its readers' faith and understanding.