Find this product on Logos.com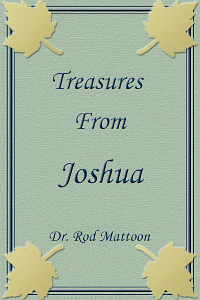 Product Details
Treasures from the Scriptures are expository, verse-by-verse commentaries that emphasize practical application. Each commentary is outlined in an alliterated style and features sermon illustrations that illuminate the Bible text.
One of our best-selling authors, Dr. Rod Mattoon is a master of words. He chooses his words very carefully so everything you get is the core truth. This work is also loaded with illustrations and applications. Mattoon has a knack for giving you exactly what you need, when you need it.
Treasures from the Scriptures is expository and topical. If you are an expository preacher who likes taking Scripture one verse at a time, this commentary will provide. If you like to preach topically, the topical and character trait studies in this volume bring your studies to life. The topics are indexed so they are searchable in WORDsearch.
Easy-to-understand Greek and Hebrew word studies take you deeper in the Word without getting too technical. As you follow Mattoon's verse-by-verse approach, you'll discover he gently dips into the well of biblical languages and always emerges with a clean, fresh understanding of a difficult word.
Mattoon also alliterates almost everything. He helps you by alliterating all of his outlines, sermon points, and key Bible truths. Best of all, every lesson of this commentary has been field tested. Mattoon has actually preached everything he has written.
You'll find the features of this commentary are easy to apply to sermons, lessons, and sharing with others. This commentary series is used every day by pastors, teachers, and Bible students in thousands of churches and over 200 Bible schools and colleges.
Sampling of chapters included in this commentary:
How to Control Your Tongue
22 Reasons for Spiritual Failure
Sincerity
What Is Truly Beautiful?
The Causes of Instability
Dealing with Sin Problems
Examining Eternal Security
The Consequences of Getting Ahead of God
About the Author
Dr. Rod Mattoon has been preaching since 1972 and has served in his current pastorate at Lincoln Land Baptist Church since 1991. In Bible College and Seminary, Dr. Mattoon majored in Bible, and to this day he spends 20-25 hours per week studying the Word of God. In addition to serving as a pastor, writer, and student of the Word, Dr. Mattoon has also worked as a Bible Professor at the Springfield branch of the Moody Bible Institute.
Endorsements
I just wanted to add a brief note to let you know how much I have enjoyed your Treasures from Scripture Series. I started with Joshua and then Judges and found them refreshing and informative. Yours is the first commentary that I reach for in my studies. I have, since the beginning, purchased each of your volumes as they have come out. The topical studies in each book have been an added blessing. Thank you again for your diligent work.