Find this product on Logos.com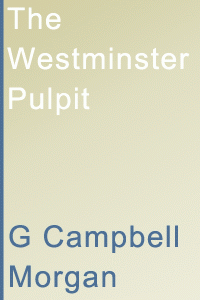 Highlights
First Published in 1915
Called by Many "The Prince of Expositors"
Named Number 6 of the Top Ten Greatest Preachers of the Twentieth Century
Product Details
This 80th-anniversary commemorative edition includes nearly 300 stimulating and scholarly sermons preached by acclaimed expositor, George Campbell Morgan at London's Westminster Chapel. Morgan is described as "one of the most powerful witnesses for Christ since the Reformation." The collection is scholarly and diverse, suitable for both sermon help and devotional reading.
About the Author
George Campbell Morgan was born in Tetbury, Gloucestershire, England in 1863. Reared as a strict Puritan he began preaching at the age of thirteen. He was educated at the Douglas School in Cheltenham. He worked as a lay-mission preacher for two years until 1888. He was ordained a minister in 1890 and took charge of the Congregational Church at Stones, Staffordshire. After occupying the pulpit in several pastorates, in 1904 he became the pastor of Westminster Congregational Chapel, Buckingham Gate, London. He journeyed to the United States where he served as a preacher and teacher for fourteen years. Morgan again returned to serve at the Westminster Congregational Chapel in 1933, where he remained until his retirement in 1943.
Endorsements
The books and sermons of G. Campbell Morgan are excellent. His Bible classes in England attracted thousands on Friday nights as he taught the Scriptures.