Find this product on Logos.com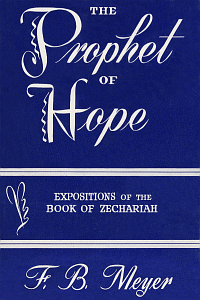 The Prophet of Hope
Expositions on the Book of Zechariah
Highlights
A favorite of Pastor Chuck Smith
Product Details
This commentary focuses on the salient features and lessons of each chapter of the book of Zechariah, with the object of alluring the Bible-student to a more searching and careful acquaintance with this Prophet. The title of this little book lays stress on one thought which pervades the prophecy of Zechariah. He is preeminently the Prophet, as Peter is the Apostle, of Hope.
About the Author
One of the greatly loved preachers of his day, Frederick Brotherton Meyer was a pastor, author, Bible teacher and evangelist. He was born in London in 1847. He attended Brighton College and graduated from the University of London in 1869. He studied theology at Regent's Park College.
Dr. Meyer began pastoring in 1870, and in 1872 he went to Priory Street Baptist Chapel. While in York he met the American evangelist Dwight L. Moody, whom he introduced to other chapels, churches, and ministers in England, and by exchange was invited to make several trips to minister in America. The two preachers became lifelong friends.
During his long and fruitful life, he preached more than 16,000 sermons. Said one author: "The phrasing of Meyer's sermons was simple and direct; he polished his discourses as an artist polishes a perfect stone. There was always a glowing imagery in his words; his speech was pastoral, lovely as an English valley washed in sunlight. In his day, great wars raged. Those who went to hear him forgot the battles."
Meyer was part of the Higher Life movement and preached often at the Keswick Convention. He was known as a crusader against immorality. He preached against drunkenness and prostitution. He is said to have brought about the closing of over 500 saloons and brothels. He also formed a prison aid society.
A devoted student of God's Word, he was the author of over 40 books, including Bible biographies (character studies), devotional commentaries, sermon volumes and expository works. He also authored several pamphlets and edited a number of magazines.
Frederick Meyer spent the last few years of his life working as a pastor in England's churches, but still made trips to North America, including one he made at age 80 (his earlier evangelistic tours had included South Africa and Asia, as well as the United States and Canada ). A few days before his death, Meyer wrote the following words to a friend: "I have just heard, to my great surprise, that I have but a few days to live. It may be that before this reaches you, I shall have entered the palace. Don't trouble to write. We shall meet in the morning."
Following F. B. Meyer's death in 1929, an English newspaper, 'The Daily Telegraph', described him as ''The Archbishop of the Free Churches''. Across the Atlantic, he had earlier been described in the 'New York Observer' as a man of international fame whose services are constantly sought by churches over the wide and increasing empire of Christendom.
Endorsements
Dr. F. B. Meyer is one of the great preachers of a past generation