Find this product on Logos.com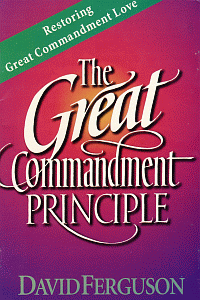 The Great Commandment Principle
Highlights
Discover 10 vital relational needs in common with everyone
Identify your most significant needs, and those of your husband, wife, children and friends
Understand how meeting those needs translates into effective relationships and ministry
Product Details
The Great Commandment Principle reveals a first Century truth for 21st Century culture—a simple but profound way of relating to God and others that will restore great relevance to the church while deepening your personal relationships with others. This book provides a biblical priority for ministry and relationships that can forever change the way that you relate to God, the way you love those closest to you, and the way you "do" ministry.
About the Author
David Ferguson has a M.Ed. from Texas State University and two doctoral degrees from Oxford Graduate School. He is a member of the Oxford Society of Scholars.
Dr. David and his wife, Teresa, have shared a Biblical message of health and relevance for more than twenty-five years. Their passion for seeing the Great Commandment of loving God and loving others lived out among God's people has led them to impact thousands of ministers and their laity. As co-directors of Great Commandment Network/Intimate Life Ministries, they direct a multi-disciplinary team who serves more than 35,000 churches in the United States and abroad with training and resources through the strategic partners involved in the Great Commandment Network of denominations, movements and ministries. David serves as co-director of the Center for Relational Leadership who provides training and resources in church, business and community settings.
Endorsements
Profound insights! Culturally relevant! Life-changing! The Great Commandment Principle is the work of a lifetime with a transforming message, and your ministry and relationships will never again be the same.