Find this product on Logos.com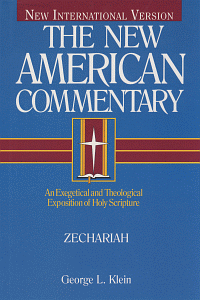 New American Commentary - Zechariah
Volume 21B
Highlights
A thorough, verse-by-verse analysis
Insightful and technical aimed at the serious Bible scholar
Great for the pastor or serious Bible student
Vast in scope, eventually to total 42 volumes
Over 40 scholars worked on the complete set
Product Details
Pastors, seminarians and students will appreciate this practical commentary on Zechariah. George L. Klein introduces the text, then follows with verse-by-verse interpretation of the prophet's night visions and oracles; Joshua's crowning; fasting and future blessing; and burdens from the Lord. Based on the NIV, it offers clear exposition filled with applicable exegetical and theological insight.
The New American Commentary Series
In development for over a decade, The New American Commentary series is for those who have been seeking a commentary that honors the Scriptures, represents the finest in contemporary evangelical scholarship and lends itself to the practical work of preaching and teaching. This comprehensive series serves as a minister's friend and a Bible student's guide.
The New American Commentary is based on the inerrancy of Scripture, focuses on the intrinsic theological and exegetical concerns of each Biblical book, and engages the range of issues raised in contemporary Biblical scholarship. Drawing on the skills and insight of over forty Bible scholars, the New American Commentary brings together scholarship and piety to produce a tool that enhances and supports the life of the church.
About the Author
George L. Klein is Associate Professor of Old Testament and Senior Associate Dean for the Research Doctoral Program at Southwestern Baptist Theological Seminary in Fort Worth, TX. He also serves on the Old Testament editorial board for the Bulletin for Biblical Research. Klein and his wife have three children.
Endorsements
The New American Commentary is nothing short of excellent. The scholarship is superb and up-to-date. The format is fresh and is totally given to a revealing of the meaning of the text. No stone seems to be left unturned. Both exegetically and homiletically, pastors will find a veritable gold mine of information. I believe this series will set the standard for years to come.
The NAC series provides an up-to-date and balanced mixture of exegetical and theological reflection and synthesis within a tradition that is deeply committed to the authority and inerrancy of Scripture. It is a valuable series for seminarians, pastors, and all serious students of God's Word.