Find this product on Logos.com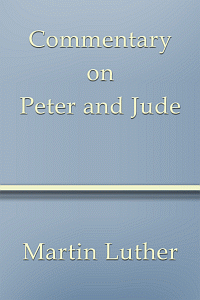 Luther's Commentary on Peter and Jude
Product Details
"A sword which was wielded by a giant." This is what has been said of this work by that stalwart of the faith, Martin Luther. What a giant he was!
This commentary on the epistles of Peter and Jude, first published in German in 1523 is, as "the prince of preachers" Charles H. Spurgeon called it, "one of his best productions."
Second Peter and Jude are often neglected portions of the New Testament, but Luther-even though writing more than four and a half centuries ago-brings to the surface the important message these epistles have for the church today.
Written in his pungent, simple, and clear style, this study amplifies the variety of themes recorded in these epistles. Luther deals hard with sin, but he shows forth in a precise manner the way of salvation through Christ. His emphasis on the Christian life is full of practical advice for deep, spiritual growth. In a definite and stirring way, the author presents the eternal hope of the believer with a reminder that he is but a pilgrim and stranger here on his way to an eternal rest with the Lord. As is expected in a work of this caliber, Luther carefully defines the relationship of faith to works.
This new edition combines into one volume the earlier editions of 1523 and 1539, which were translated into English and edited by John Nichols Lenker in 1904. It retains the 1539 supplementary notes of George Roerer and the outlines of each chapter by J.G. Walsh.