Find this product on Logos.com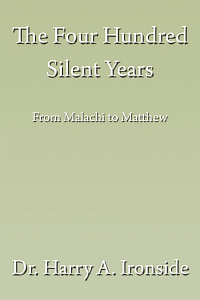 The Four Hundred Silent Years
From Malachi to Matthew
Highlights
A rare work on the Intertestamental Period
From a dispensational perspective
Product Details
In this work, Harry A. Ironside explains the Four-Hundred Silent Years, also known as the "Intertestamental Period." Ironside illuminates with his usual skill the substantial pause after the last of the inspired prophets spoke and the first of the New Testament writers began to write, and that this pause was to prepare for the greatest and most powerful Word to mankind: Jesus.
This era covers the time frame from the completion of the Book of Malachi in 397 B.C. and then ends with the Angel's announcement of the birth of John the Baptist. Ironside offers five different segments to this "Intertestamental Period":
Chapter I, The Jews Under Priestly Rule
Chapter II, The Days of the Maccabees
Chapter III, To the End of the Asmonean Dynasty
Chapter IV, The Edomite Ascendancy
Chapter V, The Literature of the Jews
About the Author
H. A. Ironside was an internationally acclaimed Bible teacher and preacher, as well as the author of more than 80 books and pamphlets. His writings include addresses or commentaries on the entire New Testament, all of the Old Testament prophetic books, and a great many volumes on other biblical topics. For 18 of his 50 years of ministry, Dr. Ironside was pastor of the famous Moody Memorial Church in Chicago, Illinois.