Find this product on Logos.com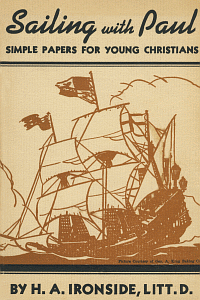 Sailing with Paul
Simple Papers for Young Christians
Highlights
An excellent "handbook" for new believers
From a dispensational perspective
Product Details
Take a trip with the Apostle Paul through the basics of Christian life. Moving through eighteen points of interest, Dr. Ironside leads us on a journey through Paul's teachings on subjects from "Baptism" to "Salvation." Each section is brief enough to be easily read, simple enough to be clearly understood, and pointed enough to encourage the spiritual traveler to press on in their journey with Christ.
Originally intended for young Christians, this resource makes an excellent "handbook" for new believers, and is perfect for group or individual study.
About the Author
H. A. Ironside was an internationally acclaimed Bible teacher and preacher, as well as the author of more than 80 books and pamphlets. His writings include addresses or commentaries on the entire New Testament, all of the Old Testament prophetic books, and a great many volumes on other biblical topics. For 18 of his 50 years of ministry, Dr. Ironside was pastor of the famous Moody Memorial Church in Chicago, Illinois.