Find this product on Logos.com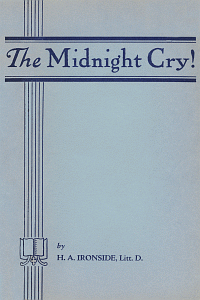 Highlights
From a dispensational perspective
Product Details
This little book from Henry A Ironside describes in vivid detail that we are are approaching the second coming of Christ. He urges us to prepare our lamps and make sure they are full of oil, because the bridgegroom is nearly upon us. If we do not do that shortly, it will be too late to go with him to the wedding.
Ironside reminds us to watch, pray and repent in preparation of the second coming. Ironside puts forth evidence on three points:
The Evidence that the Church of God is about to Close its Earthly History
The Evidence that the Times of the Gentiles have nearly run their Course
The Evidence from Israel's History and Present State that Points to the Speedy Consummation of this Age
About the Author
H. A. Ironside was an internationally acclaimed Bible teacher and preacher, as well as the author of more than 80 books and pamphlets. His writings include addresses or commentaries on the entire New Testament, all of the Old Testament prophetic books, and a great many volumes on other biblical topics. For 18 of his 50 years of ministry, Dr. Ironside was pastor of the famous Moody Memorial Church in Chicago, Illinois.