Find this product on Logos.com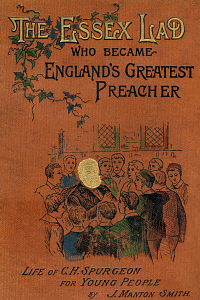 The Essex Lad
Who Became England's Greatest Preacher
Highlights
Includes a preface from John Spurgeon, Charles Haddon Spurgeon's father
Written to appeal to young people
Product Details
The life of which forms this book was, in many respects like the kaleidoscope, though plain in its exterior, it had only to be put to the eye to reveal a marvelous array of beauties and colors. This little volume is a new arrangement of the kaleidoscopic materials of Spurgeon's varied life. It seeks to make vivid those aspects of it which are of more immediate interest to young people, in hope that many of them may follow in the path which Charles Haddon Spurgeon as a lad so virtuously and vigorously pursued.
About the Author
J. Manton Smith was a preacher who was a prominent member of Spurgeon's Society of Evangelists. In the 1870s The Pastors' College Society of Evangelists was set up and linked directly with the College. This was designed to further mission work in England. Manton Smith's witnessing, singing, and cornet-playing were renowned all over the kingdom and beyond.
In 1877 A. J. Clarke and J. Manton Smith received the consent of the President to go forth from the College, for the purpose of holding evangelistic services in connection with the churches which might desire their assistance. They preached and sang the gospel in various parts of the country. Wherever they went many where converted, backsliders reclaimed, pastors cheered, and churches strengthened. When, in 1879, Mr. Clarke had to retire from his post and go to Australia, Mr. W. Y. Fullerson became Mr. Smith's co-worker, and from the first day they proved their adaptation to each other and to the special work to which they were called. Testimonies of the way in which the two men, who were totally unlike one another in many respects, yet exactly fit in to their respective places. They were were always in great request, and their engagements were usually fixed many months in advance. Wherever they went the largest buildings available were not spacious enough to contain the crowds that flocked to the services, and almost every church that sought the Evangelists' aid benefited by their mission. In one year Fullerton and Smith visited Chesterfield, Maidenhead, Barrowford, Haggate, Nelson, Brierfield, Colne, Lumb, Waterfoot, Bury, Blackburn, Burnley, Preston, Portsmouth, Cambridge, Leicester, and Edinburgh. Details of the services were published month by month in The Sword and the Trowel.
Endorsements
It was a happy thought which led to Mr. Smith, the Evangelist and close friend and former student of Mr. Spurgeon's, to prepare this narrative of the life of Mr. Spurgeon. We have read six or seven lives of Mr. Spurgeon, but find none more entertaining or profitable than this. Mr. Smith has done his work well.