Find this product on Logos.com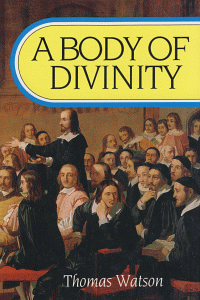 A Body of Divinity
Contained In Sermons Upon The Westminster Assembly's Catechism
Highlights
Watson's exposition of the Westminster Shorter Catechism
Part of the three-volume Body of Practical Divinity
Product Details
This classic exposition on the Westminster Shorter Catechism by English Puritan pastor and author Thomas Watson was first published as part of his work entitled A Body of Practical Divinity in 1692. This may be the most readable and important exposition of the Westminster Shorter Catechism ever written, bringing out the meaning and application of each question and answer of Westminster Shorter Catechism with great depth and insight.
About the Author
Thomas Watson was born in England in 1620. He was educated at Emmanuel College, Cambridge. In 1646 he commenced a sixteen year pastorate at St. Stephen's, Walbrook. He showed strong Presbyterian views during the civil war, with, however, an attachment to the king, and in 1651 he was imprisoned briefly with some other ministers for his share in Christopher Love's plot to recall Charles II of England. He was released on 30 June 1652, and was formally reinstated as vicar of St. Stephen's Walbrook. He obtained great fame and popularity as a preacher until the Restoration, when he was ejected for nonconformity. Not withstanding the rigor of the acts against dissenters, Watson continued to exercise his ministry privately as he found opportunity. Upon the Declaration of Indulgence in 1672 he obtained a license to preach at the great hall in Crosby House. After preaching there for several years, his health gave way, and he retired to Barnston, Essex, where he died suddenly while praying in secret in 1686.
Endorsements
Thomas Watson's Body of Practical Divinity is one of the most precious of the peerless works of the Puritans; and those best acquainted with it prize it most. Watson was one of the most concise, racy, illustrative, and suggestive of those eminent divines who made the Puritan age the Augustan period of evangelical literature. There is a happy union of sound doctrine, heart-searching experience and practical wisdom throughout all his works, and his Body of Divinity is, beyond all the rest, useful to the student and the minister.