Find this product on Logos.com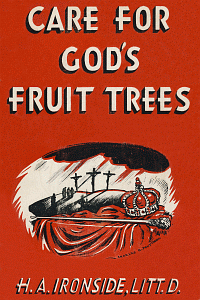 Care for God's Fruit Trees
And other Resources
Highlights
From a dispensational perspective
Product Details
A collection of miscellaneous articles and sermons which have been written or preached at different times during recent years.
Chapter 1 The Power Of His Resurrection
Chapter 2 Separation, Scriptural And Unscriptural
Chapter 3 Joseph, A Type Of Christ
Chapter 4 Four Great Truths
Chapter 5 The Gospel Of The Ever-Faithful Servant
Chapter 6 Jottings On The Gospel Of John
Chapter 7 Living The Resurrection Life
Chapter 8 Messiah's Appeal To Israel And The Nations
Chapter 9 The Judgment-Seat Of Christ
Chapter 10 Bearing About In The Body The Dying Of The Lord Jesus
Chapter 11 Care For God's Fruit-Trees
Chapter 12 Meditations On The Life And Letters Of The Apostle Paul
Chapter 13 Uzziah, King Of Judah, Or The Danger Of Success
Chapter 15 The Morning Star And The Sun Of Righteousness
Chapter 16 The Father's House And The Way There
About the Author
H. A. Ironside was an internationally acclaimed Bible teacher and preacher, as well as the author of more than 80 books and pamphlets. His writings include addresses or commentaries on the entire New Testament, all of the Old Testament prophetic books, and a great many volumes on other biblical topics. For 18 of his 50 years of ministry, Dr. Ironside was pastor of the famous Moody Memorial Church in Chicago, Illinois.