Find this product on Logos.com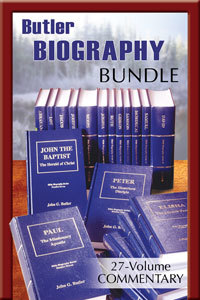 Butler Biography Bundle - 27 Volumes
Highlights
Great for expository preaching
Verse-by-verse commentary assures you of solid, Bible-based teaching
Beautifully alliterated to make each core truth more memorable
Very unique and in-depth
Exclusively from Wordsearch
Print Value $584!
Product Details
The Butler Biography Series is different from other study tools. Each of these books is a biography that follows the real-life stories of significant characters in the Bible. Yet each biography is also a detailed verse-by-verse commentary carefully exposing what each verse of Scripture says to us about each Bible character.
Author John Butler is a gifted pastor and Bible scholar who quietly wrote this series for 13 years. Successfully combining biography with verse-by-verse commentary is a task hard enough to discourage most writers, but Butler accomplishes his result masterfully. On top of this, he alliterates everything in crisp and clear outlines. Alliteration is the kind of preaching that will target human hearts and stick in the mind for good. Butler's thousands of alliterations read like poetry.
Verse-by-Verse, Perfect for Expository Preaching.
The closer we examine the Bible text, the more understanding we'll receive. Butler helps us do this will skill and clarity, neatly enclosed in outlines. His teaching is solid, conservative, and Bible-based. While the books, because they are biographical, emphasize the practical truths of the text, they also teach much doctrine where that is part of the text of study.
27 Volumes Detailing the Lives of the Good, the Bad, and the Ugly
From the experiences of Bible characters we can learn many helpful lessons in matters of faith, godly conduct, and Christian service. God could have given the Scriptures to us only in the form of a rule book. But instead He wisely included in the Scriptures instructive and exciting biographies of flesh and blood people to whom we can easily relate. The Bible Biography Series is a study of twenty-seven prominent Bible characters whose lives provide us with much important truth for every person, age, and culture.
As soon as we released this series, it became one of our bestsellers.
Check out a sample by clicking on the Sample button.
About the Author
John G. Butler has been a Baptist minister for over half a century with "pastorates in Williamsburg, Ohio; Detroit, Michigan; Chicago, Illinois; and Clinton, Iowa. He is a veteran of the United States Navy, attended Tennessee Temple University and graduated from Cedarville University. Butler is also the author of the Studies of the Savior —a ten volume series about Jesus Christ; and, the Daily Bible Reading—a unique four volume devotional series that emphasizes expository Bible study.
Endorsements
John G. Butler, longtime pastor and Bible commentator, is to be commended for his affirmation, alliteration, and application of the biblical text. He provides a treasure chest of biblical truth for the teacher and preacher of the Word of God. I gladly recommend his writings.
John Butler has produced a powerful and practical series on the lives of biblical characters. These expository books are thoroughly organized and outlined, and will help preachers and Bible teachers in preparing sermons or lessons. You will be blessed by the author's alliterative style, which stamps every message with a subtle, poetic flair.
John Butler has a God-given talent for Scripture outlining and alliteration. His clear writing style and ability to uncover biblical truth is superb. Every page is literally packed with illustrations that are easy to teach and preach.
Tremendously well researched, well written and immensely practical.
Products Included In This Bundle