Find this product on Logos.com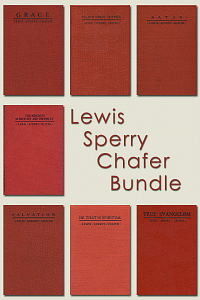 Lewis Sperry Chafer Bundle
Highlights
From a Dispensational perspective
Product Details
Features some of the best works from Lewis Sperry Chafer, founder of Dallas Theological Seminary and former professor of Systematic Theology. Now get all of Chafer's works at a great price.
About the Author
Lewis Sperry Chafer was born in Rock Creek, Ohio in 1871. Chafer attended the Rock Creek Public School as a young boy, and the New Lyme Institution in New Lyme Academy, Ohio from 1885 to 1888. From 1889 to 1891, Chafer attended Oberlin College Conservatory and College under C. I. Scofield. During his life, Chafer received his Litt.D. from Dallas in 1924, D.D. from Wheaton in 1926, and Th.D. from the Aix‐en‐Province, France, Protestant Seminary in 1946.
Chafer was ordained in 1900 by a Council of Congregational Ministers in the First Congregational Church in Buffalo and in 1903 he ministered as an evangelist in the Presbytery of Troy in Massachusetts. He became associated with the ministry of Cyrus Scofield, who became his mentor.
During this early period, Chafer began writing and developing his theology. He taught bible classes and music at the Mount Hermon School for Boys from 1906 to 1910. He joined the Orange Presbytery in 1912 due to the increasing influence of his ministry in the south. He aided Scofield in establishing the Philadelphia School of the Bible in 1913. From 1923 to 1925, he served as general secretary of the Central American Mission.
When Scofield died in 1921, Chafer moved to Dallas, Texas to pastor the First Congregational Church of Dallas where Scofield had ministered. Then, in 1924, Chafer and his friend William Henry Griffith Thomas realized their vision of a simple, Bible‐teaching theological seminary and founded Dallas Theological Seminary . Chafer served as president of the seminary and professor of Systematic Theology from 1924 until his death.
Chafer is widely recognized as one of the founders of modern Dispensationalism and was vehemently opposed to covenant theology. Strictly speaking, he was a premillennial, pretribulational dispensationalist. Other aspects of his overall theology could be generally described as rooted in aspects of the Plymouth Brethren, Calvinism, a mild form of Keswick Theology on Sanctification, and Presbyterianism, all of these tempered with a focus on spirituality based on simple Bible study and living. Chafer had a tremendous influence on the evangelical movement. Among his students were Jim Rayburn, founder of Young Life, Kenneth N. Taylor, author of The Living Bible translation, and numerous future Christian educators and pastors. Chafer died with friends while away at a conference in Seattle, Washington in August 1952.
Dr. Chafer was also the author of Satan: His Motives and Methods, The Kingdom in History and Prophecy, Salvation, He That Is Spiritual, Grace, An Exposition of God's Marvelous Gift, Major Bible Themes, The Ephesian Letter, and the multi-volume Systematic Theology. For many years he was also the editor of the theological journal Bibliotheca Sacra.
Products Included In This Bundle