Find this product on Logos.com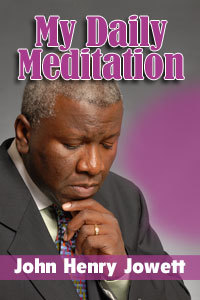 My Daily Meditation for the Circling Year
Product Details
A series of choice, tabloid talks, which include a spiritual meditation for every day of the year. The lessons Dr. Jowett seeks to convey are propounded so as to enter the understanding of his readers along a pathway of light. The whole volume is of true mintage, bearing the impress of Dr. Jowett's ripest thought and fruitful mind.
About the Author
John Henry Jowett was born at Barnard Castle, Durham, England in 1864. "I was blessed with the priceless privilege of a Christian home," he later remarked. His love for reading manifested itself early as he spent his evenings in the town's Mechanics' Institute devouring volumes from their library. Jowett's father had arranged for him to begin working as a clerk for a lawyer in Halifax, but the encouragement of his Sunday school teacher, Mr. Dewhirst, turned Jowett's heart toward the ministry.
After theological training at Edinburgh and Oxford, Jowett assumed the pastorate of the Saint James Congregational Church, New Castle-on-Tyne in 1889. His six effective years of ministry brought him to the attention of the Carr's Lane Congregational Church in Birmingham, England, on the death of their pastor. For the next fifteen years, the church grew and prospered. Their pastor's vision led them to increase their efforts to bring people to Christ.
Jowett came to America for the first time in 1909 to address the Northfield Conference founded by D. L. Moody. While in America, he preached twice at the Fifth Avenue Presbyterian Church in New York. The church immediately asked him to come as its pastor. Jowett refused having received a petition signed by more than fourteen hundred members of his church in England begging him to stay. The Fifth Avenue Church called him again, and then a third time. Finally, Jowett concluded that this was God's leading for his life. He assumed the pastorate in 1911.
Although his preaching style was not dynamic (he read all of his sermons), the depth of his knowledge, the clarity of his language, and the power of his life commanded respect. Attendance at the church which had dropped to six hundred on Sunday morning rose to fifteen hundred. Lines up to half a block long formed of people waiting for unclaimed seats. Jowett began preparing his Sunday sermons on Tuesday following a meticulously detailed schedule. When G. Campbell Morgan resigned the Westminster Chapel in London in 1917, Dr. Jowett once again crossed the ocean to take a new church. This would be his final pastorate.
Declining health forced him to give up preaching in 1922, and his death in 1923 took from the world one of its most gifted and dedicated preachers.
Endorsements
The greatest living master of the homiletic art.