Find this product on Logos.com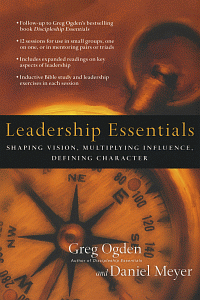 Leadership Essentials
Shaping Vision, Multiplying Influence, Defining Character
Highlights
A follow up to Greg Ogden's best-selling Discipleship Essentials
Great for use in small groups, one-on-one, or in mentoring pairs or triads
Includes material for individual use as well as group discussion
Named by Preaching Magazine as one of The Year's Best Books For Preachers - 2006
Product Details
Maybe you've shied away from leadership because you don't know what it will involve, or you feel too unsure of your own abilities. But your leadership is needed! In every sector of society, from families to businesses to churches, leadership roles remain empty, waiting for people willing and able to step up and make wise decisions that bring positive change. And, in a world with priorities vastly different from Christ's, Christian leaders are especially needed to point people to Him.
As essential as the leadership itself is the preparation beforehand, which is why Greg Ogden, a seasoned leader himself, has created this interactive guide that will give you the tools you need to lead well, using your unique gifts and experience.
Divided into four sections, this workbook will help you develop character, postures, vision and skills as you participate in the following elements in each chapter:
a memory verse
a Bible study
a reading
a leadership exercise
By working through these multiple channels of learning you'll be equipped not just with head knowledge about leadership but with true character formation and awareness of your own abilities that will prepare you for the challenges and choices of leadership.
About the Authors
Greg Ogden is the Executive Pastor of Discipleship at Christ Church of Oak Brook, Illionois. From 1998-2002, Greg served as Director of the Doctor of Ministry Program at Fuller Theological Seminary and Associate Professor of Lay Equipping and Discipleship. Prior to coming to Fuller, Greg enjoyed 24 years in pastoral ministry, primarily within Presbyterian churches, but most recently as Senior Pastor at the Saratoga Federated Church in the Silicon Valley, California. He is the author of four books: Unfinished Business Returning the Ministry to the People of God , Discipleship Essentials: A Guide to Building Your Life in Christ, Transforming Discipleship: Making Disciples a Few at a Time and a co-author of Leadership Essentials: Shaping Vision, Multiplying Influence, Defining Character.
Daniel Meyer grew up in Chappaqua, New York, and became a follower of Jesus Christ through the ministry of Young Life at age 18. The son of a State Senator, Dan studied political science at Yale, served as head of its student government and received Yale's John C. Schroeder Award for Leadership.
Following college, Dan spent two years serving as a volunteer in Northern Ireland, during which time God redirected his path toward pastoral leadership. Dan received Princeton Seminary's Long-Davies Prize for Excellence in Preaching in 1985, Columbia Seminary's Thompson Scholarship in Evangelism in 1989, and Fuller Seminary's Doctor of Ministry degree in 2008.
Dan's life experience includes work on an off-shore oil-rig, in a maximum security prison, on a farm, and in the world corporate headquarters of IBM. He is co-author of Leadership Essentials and host of Life Focus, an Emmy award-winning television news magazine that airs nationwide on PBS stations and the Trinity Broadcasting and Total Living Networks. Dan's messages are featured frequently in Christianity Today's Preaching Today resources.
Since March 1997, Dan has coordinated the vision and work of the Board of Trustees, Board of Elders, and ministry staff at Christ Church of Oak Brook in Oak Brook, Illinois. He preaches at most of their morning worship services, teaches regularly in other arenas, and serves as the voice of Love Changes Life, the television and radio outreach of Christ Church.