Find this product on Logos.com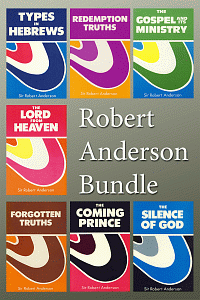 Highlights
A great collection of Dispensational works from Sir Robert Anderson
Product Details
This collection of works from Sir Robert Anderson offers some of the best scholarship on Bible doctrine.
About the Author

Sir Robert Anderson was born in Mountjoy Square, Dublin, Ireland in 1841. On leaving school, Anderson began a business apprenticeship in a large factory, but after eighteen months he decided not to go into business and left. After studying in Boulogne-sur-Mer and Paris, he entered Trinity College, Dublin, where he graduated Bachelor of Arts in 1862, and in 1863 was called to the Irish Bar. He received a Bachelor of Laws degree from Trinity College in 1875.
Anderson became a respected member of the Irish Home Office and an expert on criminal investigation. In 1888, he was summoned to Scotland Yard, London, to serve as Chief of the Criminal Investigation Department, an office he filled with distinction until retirement in 1896. At his retirement, he was knighted by Queen Victoria; and in 1901, King Edward VII made him Knight Commander.
Anderson was a member of the Plymouth Brethren, first with Darby then with the Open Brethren party, before returning to his Presbyterian roots. In the midst of all his many duties, he managed to gain a profound knowledge of the Bible, preach in various conferences, and write seventeen books. Anderson died from the Spanish Influenza in 1918 and is buried in Kensal Green Cemetery.