Find this product on Logos.com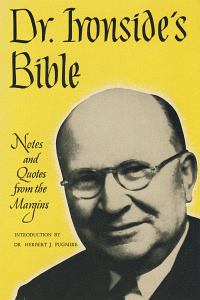 Dr. Ironside's Bible
Notes and Quotes from the Margins
Product Details
A few moments of browsing through his Bible will quickly reveal Dr. Henry A Ironside's devotional love for the Book, also his method of expounding it. He was probably the most famous exponent of verse-by-verse exposition of our generation.
Dr. Ironside's manner of marking the Bible is a fascinating study in itself. In fact, all flyleaves are actually covered with sayings, poems, diagrams, illustrations, epitaphs, and even Chinese characters, which he studied for recreation. Here and there, he has noted some of the great themes of the Bible, which signified the power and effectiveness of his preaching. But perhaps the richest of the treasure is the reading of his choice comments scattered over some fifteen hundred pages of Scripture, as written by him in the margins.
This volume contains selections from the many 12 marginal notes found in each of the Books of the great expositor's old Bible. If the reader will fit these notes with chapter and verse, he will find the map leading to buried treasure.
About the Author
H. A. Ironside was an internationally acclaimed Bible teacher and preacher, as well as the author of more than 80 books and pamphlets. His writings include addresses or commentaries on the entire New Testament, all of the Old Testament prophetic books, and a great many volumes on other biblical topics. For 18 of his 50 years of ministry, Dr. Ironside was pastor of the famous Moody Memorial Church in Chicago, Illinois.