Find this product on Logos.com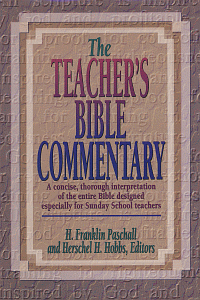 Teacher's Bible Commentary
A Concise, Thorough Interpretation of the Entire Bible Designed Especially for Sunday School Teachers
Highlights
One of the widely-used reference tools for Sunday School Teachers for over 40 years
Quickly grasp the central meaning of each passage
Product Details
The Teacher's Bible Commentary has been one of the most widely-used reference tools for Sunday School Teachers for over 40 years. From the idea stage, the commentary was designed to meet the week-to-week needs of men and women who have the awesome responsibility of leading others in the study of God's word.
Teacher-Tested
Writers consulted Sunday School teachers before beginning to write and secured manuscript evaluations afterwards.
Time-Saving
For every passage of Scripture, there is a concise summary of the passage's central meaning or purpose.
Thorough
For more difficult passages there is also a more detailed explanation.
Trustworthy
All contributors are highly qualified Bible interpreters who are loyal to the Bible as the Word of God.
About the Editors
H. Franklin Paschal was a former President of the Southern Baptist Convention. He also served as a Chair of Biblical Studies and Preaching at Belmont University, which was named in his honor. Paschal served as the Pastor of the First Baptist Church in Nashville from 1956 to 1983.
Herschel H. Hobbs was born at Talladega Springs, Alabama. He made his profession of faith at 11, and was baptized in a local creek and answered the call to preach at 19. He graduated from Howard College, now Samford University, in Birmingham, Alabama, received a master's in theology from Southern Seminary and earned a Ph.D. in New Testament interpretation at Southern Seminary in 1938.
Ordained in 1929 in Birmingham, he held several other pulpits before being named pastor of the First Baptist Church in Oklahoma, where he preached from 1949 to 1972. He was named pastor emeritus a year later. He was best known as chairman of the panel that drew up a revision of the The Baptist Faith and Message statement in 1963. Dr. Hobbs served two terms, from 1961 to 1963, as president of the Southern Baptist Convention, and he served as vice president of the Baptist World Alliance from 1965 to 1970.
His column, "Baptist Beliefs," was carried regularly by the weekly Baptist Messenger of Oklahoma City and other Baptist papers. For many years his sermons were also broadcast weekly over hundreds of radio stations on "The Baptist Hour." Hobbs died in 1995 at Baptist Hospital in Oklahoma City.