Find this product on Logos.com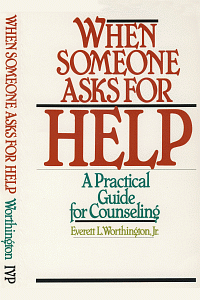 When Someone Asks for Help
A Practical Guide for Counseling
Highlights
Written for non-professionals
Takes an in-depth look at the five stages of counseling
Includes case studies
Product Details
"I have a problem... Could you help me?"
Ever hear this plea over lunch or late at night in a dormitory? Someone has come to us for help. "Who, me?" we blurt out and then frantically think, "What can I say? How can I help?"
Everett Worthington guides us as we respond to just situations. First he explains what Christian helping really is, what causes problems and how they can be solved. Then he takes us step by step through the five stages of counseling, from understanding what's going on to helping people work through their problems. Throughout, he describes the delicate dynamics of moving into a helping relationship, providing aid, then moving back into the give-and-take of friendship.
Here is a book to help Christians put love into action through bearing other people's burdens.
About the Author
Everett L. Worthington Jr. (Ph.D., University of Missouri) is professor of psychology at Virginia Commonwealth University. A licensed clinical psychologist, he works with VCU's counseling program and with VCU's social psychology and developmental psychology programs. He is the director of VCU's Marital Assessment, Therapy and Enrichment Center (MATE) and served as executive director of A Campaign for Forgiveness Research. He has published more than 200 articles and papers on forgiveness, marriage and family, psychotherapy and virtue in a wide variety of journals and magazines. He was the founding editor of Marriage and Family: A Christian Journal and sits on the editorial boards of several professional journals. He has appeared on Good Morning America, CNN, The 700 Club and in many national newspapers. He is the author of more than twenty books including Handbook of Forgiveness, Hope-Focused Marriage Counseling and Forgiving and Reconciling.