Find this product on Logos.com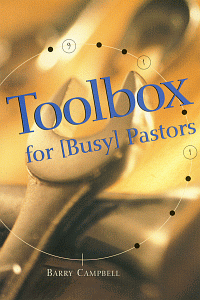 Toolbox for [Busy] Pastors
Highlights
Contains 200 pages of essential ministry helps
Product Details
Find quick how-to articles for the 100 most common tasks in ministry.
This resource provides one-to-two page summaries on how to: baptize believers, lead a committee meeting, ordain a deacon, dedicate a child, dedicate a building, handle controversy, make a hospital visit, plan effective revivals, utilize computers in your church, write a job description, develop a church constitution, and dozens more!
About the Author
Barry Campbell is regional director for the Lead Consultant, Eastern Region, LifeWay Church Relations and Consulting. Campbell served as pastor of churches for twenty years before joining LifeWay in 1993.