Find this product on Logos.com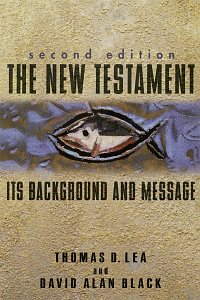 The New Testament: Its Background and Message
Second Edition
Highlights
Broad overview of the New Testament
Features revised sections that examine the text of the New Testament and the
synoptic problem
Also includes updated outlines that reflect recent work on the discourse
structure of some books and new bibliographies
Product Details
The New Testament: Its Background and Message introduces the types of literature found in the New Testament and explores their political, cultural, historical and religious backgrounds. Included is a special focus on specific portions of the New Testament, including: the Gospels, Acts, and Paul and his letters. Written in an easy-to-understand style, The New Testament: Its Background and Message unlocks the message of the New Testament for both new students and seasoned scholars.
This second edition includes revised sections on the text of the New Testament and the synoptic problem; updated book outlines reflecting an awareness of recent work on the discourse structure of some of the New Testament books; and, updated bibliographies.
About the Authors

Thomas D. Lea (?-1999) earned his Th.D. at Southwestern Seminary. He is the author of numerous articles and is the coauthor of commentaries on 1 Corinthians and 1-2 Peter, Jude. He served as Dean of the School Theology at Southwestern Baptist Theological Seminary in Fort Worth, Texas. He is also a Mississippi State alumni, class of 1960.
David Alan Black was born in Honolulu and raised in Kailua on the island of Oahu in Hawaii. An avid surfer, he has enjoyed big wave riding at such famous beaches as Makaha, Pipeline, Sunset Beach, and Pupukea. But the biggest ride of his life was when he put his faith in Jesus Christ as his Savior and Lord at the age of eight. During his teen years he was active in the Jesus Movement as well as in his local church, serving as deacon, youth pastor, and music leader.
After graduation from high school in 1970, Dave studied music at the University of Hawaii before leaving for California to attend Biola University. He graduated from Biola in 1975 with a B.A. in Biblical Studies, and then enrolled in Biola's graduate school, Talbot School of Theology, where he majored in New Testament and Greek. Dave graduated from Talbot in 1980 and then began doctoral studies in New Testament at the University of Basel in Switzerland, where he received his Doctor of Theology degree in 1983. He later took courses at Jerusalem University College on Mount Zion in Israel.
Dave is currently Professor of New Testament and Greek at Southeastern Baptist Theological Seminary in Wake Forest, North Carolina. He has lectured at the Complutensian University in Spain, the Areopagus in Timisoara, Romania, and the Universities of Oxford and Leeds in England. Dave has published over 100 scholarly articles and book reviews in such journals as Novum Testamentum, New Testament Studies, Bible Translator, Journal of Biblical Literature, Biblica, Westminster Theological Journal, Southern Baptist Journal of Theology, and Journal of the Evangelical Theological Society. He is New Testament editor of the International Standard Version translation of the Bible and a founding editor of Filologia Neotestamentaria in Córdoba, Spain. He holds memberships in the Evangelical Theological Society and the Studiorum Novi Testamenti Societas.
Dave has been an avid horseman and Civil War reenactor. He and his wife live on a 123-acre working farm in southern Virginia and are self-supporting missionaries to Ethiopia and the world.