Find this product on Logos.com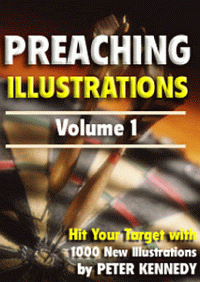 Preaching Illustrations Vol.1
Hit Your Target with 1000 New Illustrations
Highlights
Features 1000 Illustrations for Preaching and Teaching
Product Details
What makes Preaching Illustrations different from other sermon illustrations are the quality of the illustrations. There are no vague stories, urban legends or anonymous quotes. They researched the stories using multiple sources and wrote them fresh so there are no copyright implications. Each illustration included packs an emotional punch that will help drive home your teaching point.
About the Author
Peter Kennedy grew up in Portland, Connecticut where he regularly attended an Episcopal Church. He joined the choir and later became an alter boy. After high school, he went to the University of Virginia on a Navy R.O.T.C. scholarship. He graduated in 1976 with a B.A. in Environmental Science and was commissioned an ensign in the U.S. Navy.
Kennedy reported to flight school in Pensacola, Florida where a friend of his invited him to a local Presbyterian church. The following Tuesday, a couple of men from the church visited Kennedy at his quarters and asked "If you were to die, do you know for sure that you would go to heaven?". That night he gave his life to Jesus Christ and was born-again.
In November 1978, Kennedy was transferred to San Diego, California and reported aboard Naval Air Station Miramar as a Naval Flight Officer flying the E-2C aircraft. He quickly became involved in the San Diego Navigator ministry to Naval Officers. He deployed on the USS Kitty Hawk from May 1979 to February 1980 and again from April 1981 to November 1981. During both deployments, he led an interdenominational Bible study for the officers on board. In November 1978, he began attending College Avenue Baptist Church in San Diego, where he remains a member today.
In January 1982, Kennedy felt God's call to attend seminary and he graduated with a Masters of Theological Studies in 1988 from Bethel Seminary-West Campus. Following seminary, he realized his call was to minister after the normal business day. In October 1991, he was asked to teach night Bible school in Tijuana, Mexico. From January 1992 to June 1993, he was the dean of a Bible school in Tijuana while the resident missionary, who had founded the school, was on sabbatical.
In August 1994, he took a job as a civil servant, working as an Environmental Protection Specialist on an admiral's staff, ensuring naval air stations remained in environmental compliance. He graduated with a Masters of Science in Environmental Management in September 1995 from West Coast University.
In November 1995, while working as a civil servant for the navy, a navy chaplain sent a devotional to the staff. Kennedy liked it and sent it on to a friend. She commented that she enjoyed it. He realized that there was a need during the work week for Christians to be encouraged in their walk with Jesus Christ. Devotional E-Mail formally started in April 1996 and has quickly reached to Christians on the internet throughout the United States, England, Africa and the Philippines. The purpose of Devotional E-Mail is "to encourage Christians in their walk with Jesus Christ".