Find this product on Logos.com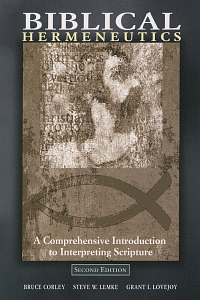 Biblical Hermeneutics, Second Edition
A Comprehensive Introduction to Interpreting Scripture
Highlights
Step-by-step approach to interpreting the passage
Hermeneutical principles that apply to both Testaments
How both the history of interpretation and recent developments in the philosophy
of language contribute to being able to interpret biblical text today
How to move from theoretical understanding to practical application of theory
How to contextualize biblical teaching in a variety of cultural contexts
How to prepare a sermon that draws on a whole range of interpretive tools and is
sensitive to biblical genre
Product Details
Biblical Hermeneutics is designed for students and ministers who want to grow in their ability to interpret, teach, and preach God's Word. It requires no understanding of Biblical languages or of the technical details of hermeneutics, the art and science of interpreting the Bible. This new edition is a substantial revision and expansion of the 1996 edition of Biblical Hermeneutics.
About the Authors
Bruce Corley, Th.D., is President and Professor of New Testament and Greek, at B. H. Carroll Theological Institute in Arlington TX. Corley is a graduate of Northeastern State University, Tahlequah, Oklamona where he earned a B.S.Ed. degree. He also earned M.Div. and Th.D. degrees from Southwestern Baptist Theological Seminary in Ft. Worth, Texas. Additional studies include Spurgeon's College, London, England and the University of Cambridge in England.
Prior to his appointment to BHCTI in November 2003, he was Professor of New Testament and Greek (1976-95, 1996-2003) and Dean of the School of Theology (1990-95) at Southwestern Baptist Theological Seminary. He also served as Professor of Christian Scriptures of the George W. Truett Theological Seminary of Baylor University, Waco, Texas, 1995-96.
Before his teaching career at Southwestern Seminary, Dr. Corley served pastorates in Jonesboro and Breckenridge TX. He maintains an active schedule in Bible conferences, interim pastorates, and denominational activities. His professional experience includes memberships in the Society of Biblical Literature, the Institute for Biblical Research, and the National Association of Baptist Professors of Religion where he has held elected offices and worked on the editorial boards of two journals. He has lectured in Europe and the United States, delivering the annual lectures at four universities and two seminaries. Dr. Corley has presented nine academic papers in the scholars' guild as well as three series of studies for field missionaries. Among the twenty-five books and essays he has written, there are commentaries on Romans and 2 Corinthians. He is presently completing a commentary on Hebrews and a research book on Paul.
Steve W. Lemke is provost and professor of philosophy and ethics at New Orleans Baptist Theological Seminary (1997 to present). His education includes a Ph.D., Southwestern Baptist Theological Seminary (1985); M.A.R.E., Southwestern Baptist Theological Seminary (1978): M.Div., Southwestern Baptist Theological Seminary ( 1976); B.A., Louisiana Tech University (1972);Additional study at Texas Christian University, the University of Texas at Dallas, and in the M.A. in Philosophy program at Texas A&M University.
Lemke has taught at numerous schools both in the US and abroad prior to accepting his position at NOBTS. Here are just a few: Associate Professor in Philosophy of Religion, and Convener of the Philosophy of Religion Department, Southwestern Baptist Theological Seminary (1990-1997); professor at Oradea Bible Institute in Oradea, Romania (1995); Bucharest Theological Seminary in Bucharest, Romania (1991, 1995); St. Petersburg Theological Seminary in St. Petersburg, Russia (1993).
Lemke has been a pastor of numerous churches in Texas and has been interim pastor for twelve churches. He has served as a Youth Minister, revival evangelist for over a dozen revival meetings, speaker for over a dozen seminars in churches, preacher in over a dozen Bible conferences, delivered sermons in numerous associational meetings and college/seminary chapel services and participated in seven mission trips in four states and two foreign countries.
Grant I. Lovejoy, Ph.D., is Director of Orality, on the International Mission Board of SIL International.