Find this product on Logos.com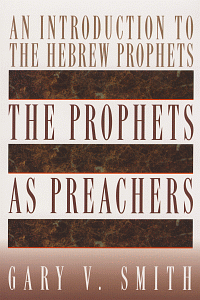 The Prophets as Preachers
An Introduction to the Hebrew Prophets
Product Details
The prophets of Old Testament times were among the most persuasive preachers in all of history. They communicated messages powerful enough to change individual lives, dramatically impact decisions of the world's greatesdt leaders, and cause entire nations to repent and return to faithful obedience.
Perhaps most amazing, the prophets achieved this success without benefit of either modern electronics or foraml training in persuasive technique and communication theory.
How do we explain the prophets success? Was their message alone sufficient? Did their success result from the convicting power of God working among their audiences? Or, did they rely on a special understanding of the audience's behavior, beliefs, attitudes and needs?
In The Prophets as Preachers, Gary Smith argues that the correct answer would be "all of the above." As he supports this assertion, Smith provides a stimulating new study of the Old Testament prophets. He reaches beyond traditional presentations of Scripture and historical data to look through the eyes of the Old Testament prophets, see their worldviews, examine their historical/social contexts and explore the communications process and the dynamics of persuasion.
As a result, The Prophets and Preachers serves equally well as a primary text for upper level college/seminary courses in prophets or a supplemental test for preaching classes.
About the Author
Gary V. Smith is a professor of Old Testament at Bethel Theological Seminary in St. Paul, Minnesota, and author or Broadening Your Biblical Horizons, and Amos: A Commentary.