Find this product on Logos.com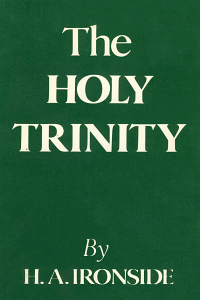 Highlights
Available as a KINDLE download
Product Details
Using key verses from both the Old and New Testaments, beloved author H.A Ironside shows that the critical doctrine of the Trinity is clearly taught in Scripture. This brief message is an ideal introduction to the unity of the Godhead and the three persons of the Trinity.
About the Author
Dr. Henry (Harry) Allen Ironside received his degree of Doctor of Literature from Wheaton College. He began preaching in Los Angeles at the age of fourteen and later served as a Bible teacher, Evangelist and Preacher. He was President of the Western Book & Tract Company, and for six years he was professor of Biblical Literature at the Evangelical Theological College in Dallas, Texas. In 1930, he became the Pastor of Moody Memorial Church in Chicago, Illinois. Dr. Ironside was known to preach twice each Sabbath to audiences of over three thousand at each service.
During his day, Dr. Ironside was widely and favorably known throughout the United States, Canada and Great Britain. He was one of the most outstanding Bible teachers and preachers of his time, a man of God, with a message from God, which he delivered in the power of God. His life was a benediction to all who knew him and his ministry enriched the Christian church. He authored over thirty volumes, many booklets and numerous articles in the religious Press. From the long list of his published works, mention should be made of Notes on Jeremiah, The Minor Prophets, Notes on Proverbs, Ezra, Nehemiah, and Esther, Lectures on Daniel the Prophet, Lectures on Revelation, Lectures on Romans, Lectures on Colossians, Lectures on the Epistles of John, Notes on Hebrews and Titus. He also served as the editor of The Moody Church News.
Endorsements
It is a rare combination, indeed, when a man is both a master of Bible exposition, based on a lifetime of arduous study, and an outstanding author from the stand point of clarity, accuracy and popular style. All of this is noticeably true of Dr. H. A. Ironside, Pastor of the great Moody Memorial Church, Chicago. I anticipate that his new book, "Except Ye Repent," will prove a great spiritual uplift to thousands everywhere. I congratulate the American Tract Society on the possession of this book, and commend it without hesitation as I do all that Dr. Ironside has written."