Find this product on Logos.com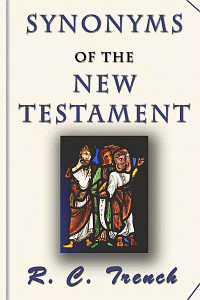 Synonyms of the New Testament
Highlights
Often paired with Robert Baker Girdlestone's Synonyms of the Old Testament
Keyed to Strong's numbering system
Covers more than 100 major categories and over 300 subjects
Named as one of the 850 Books for Biblical Expositors by the Master's Seminary
Product Details
You can enhance any study of the New Testament with Trench's Synonyms of the New Testament. This classic reference tool provides accurate, detailed definitions of key New Testament words. One hundred and seventeen sets of synonyms are given and compared; an analysis of why a particular word was used in lieu of another is examined; and, a thorough discussion of the meaning and use of each Greek word is provided. This reference will undoubtedly help users improve their understanding of the Scriptures.
About the Author

Richard Chenevix Trench was born in Dublin in 1807, the son of a barrister-at-law. Trench was educated at Harrow School and Trinity College, Cambridge. He left Cambridge in 1829 and after a period of depression and despondency, which he relieved by writing poetry, he was ordained in 1832. After brief curacies, he became professor of divinity in King's College, London (1846-1858), dean of Westminster (1856-1863), and finally archbishop of Dublin (1863-1884).
Apart from the publication of poetry, he wrote two well-known books on the Gospels: Notes on the Parables of Our Lord(1841) and Notes on the Miracles of Our Lord (1846). More technical were his Study of Words (1851) and Synonyms of the New Testament (1854). This interest in philology also took practical form in his activity in helping with the publication of the now famous Oxford English Dictionary. He passed away at the age of 79.
Endorsements
Will assist the student of the Word to distinguish between the different shades of meaning of similar New Testament Greek words.
This volume has passed through many editions and is still useful for distinguishing accurately the meaning of similar Greek words