Find this product on Logos.com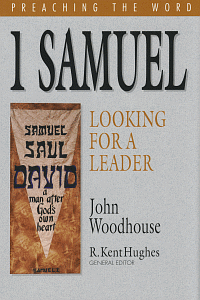 Preaching the Word - 1 Samuel
Looking for a Leader
Highlights
Noted for its commitment to Biblical authority
Named by Preaching Magazine as one of the Year's Best Books For Preachers 2006
Named by the R. C. Ryan Center for Biblical Studies as one of the Best Tools for Preaching and Teaching
Product Details
What kind of leaders should we follow? What kind of leaders should we be? And what does God have to do with it? These are some of the questions inherent in 1 Samuel, with its portrait of divine response to ancient Israel's leadership crisis. That crisis was met through three men—Samuel, Saul, and David—in ways that forever changed the character of Israel's leadership and clarified what God requires of his people and their leaders.
As John Woodhouse demonstrates, 1 Samuel's biblical context provides serious reflection on our need for leadership and the failure of human leaders. But it also reveals God's answer for Israel, which turns out to be his answer for the whole world and for each of us individually. This perceptive commentary not only illumines Old Testament history but brilliantly points to the New Testament promise that was fulfilled in Jesus, our sovereign leader and Savior.
About The Author
John W. Woodhouse has been the principal of Moore Theological College in Sydney, Australia, since 2002. Previously he was Assistant minister at Greek Bible Fellowship and Rector, Christ Church in St Ives. He received his Bachelor of Divinity, at the University of London and his Doctor of Philosophy at Victoria University of Manchester. He currently is Chair of the Sydney Diocesan Doctrine Commission. He has a passion for teaching the Bible in a way that helps people understand the various parts of Scripture in light of the center of God's revelation, Jesus. Chair, Sydney Diocesan Doctrine Commission
Endorsements
The Preaching the Word Commentary is one of my favorites. The focus upon explaining the text with preaching it as the goal makes the series resonate with the priorities of the pulpit. No academic aloofness here, but down-to-earth, preacher-to-preacher meat for God's people.