Find this product on Logos.com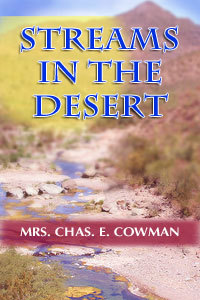 Highlights
One of the best-selling devotionals of all time
Offers 366 heart-felt devotions from numerous sources
Also available as a KINDLE download
Product Details
First published in 1925, Lettie Burd Cowman's Streams in the Desert is a masterful compilation of inspirational writings from a variety of sources. Cowman collected these works during the dark time in her life when her beloved husband, Charles Elmer Cowman, was terminally ill. Streams in the Desert is a legacy of faith and wisdom that is time-tested. The writings herein are faithful to the One who alone can slake our spiritual thirst. Turn to it daily, and let these writings fill you with the Holy Spirit.
About the Author
Lettie Burd Cowman (1870-1960) worked as a missionary with her husband, Charles Elmer, in Japan and China from 1901-1917 during which time they were instrumental in founding the Oriental Missionary Society.
Due to a serious illness, Charles was forced to return to the United States, where Lettie nursed him for six years until his death in 1924. During the next twenty-five years, Mrs. Cowman inspired several nation-wide Scripture-distribution campaigns and wrote seven books. After an extended illness, at the age of 90, she laid her earthly mantle aside on Easter Sunday, 1960, her coronation day.