Find this product on Logos.com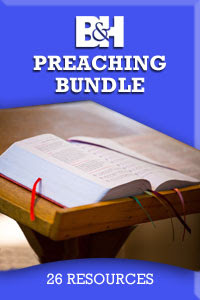 Highlights
26 Preaching Resources by Broadman & Holman
Product Details
B&H publishing is known worldwide for producing some of the finest tools available for preaching and teaching God's Word. Preachers, teachers, and students of the Bible know they can trust materials from B&H because of their accurate scholarship and solid grounding in the Word. The B&H Preaching Bundle is a carefully hand-picked collection of 26 of these preaching tools.
26 Volumes That Will Help You Preach More Effectively
All 26 of these books are pulpit-tested winners that will guide you in preparing sermons and lessons. You'll find helpful ideas and advice on homiletics, speaking techniques, delivery, and time management.
A Powerful Package for Preachers, Teachers, and Students of God's Word
These tools are not just for preachers. If you are a serious student of God's Word, you can also use them as you are involved in your ministry.
These 26 volumes are among the best that B&H has published for preaching. It's possible you may already own one or more of these works. You'll never need to pay for the same books twice. Just give us a call and our friendly Customer Service Reps will quickly check your account and adjust your price accordingly for books you already own in this bundle.
Learn more about each included book by clicking on their book covers listed below.
Products Included In This Bundle