Find this product on Logos.com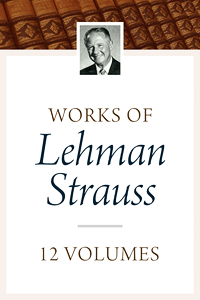 Works of Lehman Strauss - 12 Volumes
Highlights
From a dispensational perspective
12 volumes
Product Details
This collection from the late pastor and author Dr. Lehman Strauss features twelve of his best works. Discover for yourself Strauss' rich exposition and material to provide spice to your sermon and insight to your teaching. Now you can add this must-have collection to your library from Wordsearch's ever growing collection of preaching and teaching resources.
About the Author
Lehman Strauss taught Old Testament history for eight years at Philadelphia Bible Institute and served as pastor of the Calvary Baptist Church in Bristol, Pennsylvania from 1939 to 1957. Strauss served as pastor of Highland Park Baptist Church (Highland Park, Michigan) until the end of 1963 when he resigned to devote himself to a full-time itinerant Bible conference and evangelistic ministry both in the States and abroad. Strauss taught on the national weekly radio broadcast, "Bible Study Time." Dr. Strauss was residing in Florida and writing his 19th book at the age of 86 when the Lord called him home in June 1997.
Endorsements
Lehman Strauss was a gifted Bible teacher who made the Word clear and personal. He and I were often in conferences together, and his ministry spoke to my heart. His volumes on Daniel and Revelation are classics and ought to be in the library of every serious Bible student. Both veteran and beginning ministers will find his printed studies excellent models of biblical exposition at its best.
Lehman Strauss was an incredible Bible Teacher and expositor. His commentaries are rich with material for both pastors and laity. Lehman spoke for us numerous times at Sherwood and always brought rich insight into the Scriptures. The truth of God's Word will come alive in practical ways as you use these commentaries. This material has been saved for us by Wordsearch, having been out of print for a number of years. I am grateful to Wordsearch for their diligence in making these classic books available once again.
The Lehman Strauss Collection will provide much personal information about this inspiring man of God as well as many penetrating insights from the inspired Word of God. It will prove to be a treasure and a pleasure to search. Preacher and teacher alike will profit from using this valuable resource from Wordsearch!
Here is a great package by a master of exposition. I was introduced to Strauss' works by a dear brother not long after I was saved. Nearly thirty years later, I still draw from them. Get this package. You will not be disappointed!
Products Included In This Bundle