Find this product on Logos.com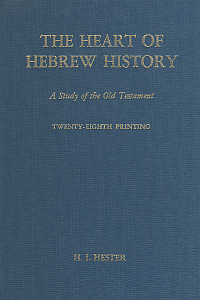 The Heart of Hebrew History
A Study of the Old Testament
Product Details
The Heart of Hebrew History was written by H.I. Hester at the request of the Education Commission of the Southern Baptist Convention in 1948. The Convention desired Hester to prepare an updated textbook on the Old Testament for use by college students. This book is the result of such efforts and is intended primarily for students on the freshman and sophomore level, as it is not considered exhaustive nor overly technical and gives only limited consideration to the critical problems of the Old Testament.
The Heart of Hebrew History begins with an overview of the Bible text and examines its authors, nature of content, inspiration, preservation, translations, and other pertinent information to a proper understanding of the book itself. Hester then explores the Old Testament world by examining its size, scope, climate, animal/plant life, cities, and topography. The author then dives into the bulk of his work by presenting the leading facts in the history of the Hebrew people as given in the Old Testament. These facts are put into an almost exclusive narrative form to preserve the element of human interest which is such an integral part of the memorable stories of the Old Testament. Finally, Hester ends his volume with a brief, but thorough, historical account of the inter-testamental period.
About the Author:
Dr. Hubert Inman Hester (1895-1983) graduated in 1921 from the Southern Baptist Theological Seminary in Louisville. He was the pastor at Beech Fork Baptist between 1920-1923. He left Beech Fork to teach at Furman University from 1924-1926 and was also the pastor of Reedy River Baptist Church from 1925-1926. Hester was the Head of the Department of Religion at William Jewel College in Liberty, Missouri from 1926-1961; and Vice President of Midwestern Seminary in Kansas City from 1961-1974. He is the author of the endowed lectureship on preaching at Golden Gate Seminary in California that was named in his honor in 1968.