Find this product on Logos.com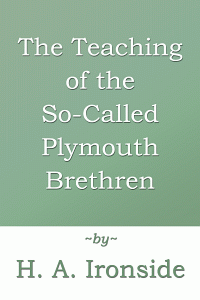 The Teaching of the So-Called Plymouth Brethren
Product Details
In this short volume, Dr. Ironside examines the critiques made of the Plymouth Brethren in Baptist theologian Dr. A.H. Strong's Systematic Theology. He considers the quotation Dr. Strong uses from Plymouth Brethrenism Unveiled. He then systematically examines each false church principle and heretical teaching charged against the Brethren. He considers whether or not the principle or heresy claimed is truly out of line with Scripture and whether or not the Brethren adhere to it. Finally, he explores further remarks made by Dr. Strong concerning the Brethren and their teaching. This is a thorough analysis for those who may have an interest in the beliefs of the Plymouth Brethren and an admonition for those of us who might be careless in our estimation of different parts of the body of Christ.
About the Author
Dr. Henry (Harry) Allen Ironside received his degree of Doctor of Literature from Wheaton College. He began preaching in Los Angeles at the age of fourteen and later served as a Bible teacher, Evangelist and Preacher. He was President of the Western Book & Tract Company, and for six years he was professor of Biblical Literature at the Evangelical Theological College in Dallas, Texas. In 1930, he became the Pastor of Moody Memorial Church in Chicago, Illinois. Dr. Ironside was known to preach twice each Sabbath to audiences of over three thousand at each service.
During his day, Dr. Ironside was widely and favorably known throughout the United States, Canada and Great Britain. He was one of the most outstanding Bible teachers and preachers of his time, a man of God, with a message from God, which he delivered in the power of God. His life was a benediction to all who knew him and his ministry enriched the Christian church. He authored over thirty volumes, many booklets and numerous articles in the religious Press. From the long list of his published works, mention should be made of Notes on Jeremiah, The Minor Prophets, Notes on Proverbs, Ezra, Nehemiah, and Esther, Lectures on Daniel the Prophet, Lectures on Revelation, Lectures on Romans, Lectures on Colossians, Lectures on the Epistles of John, Notes on Hebrews and Titus. He also served as the editor of The Moody Church News.