Find this product on Logos.com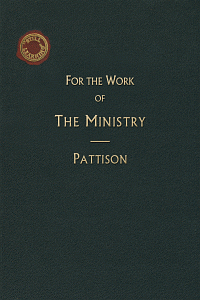 Highlights
Also available as a KINDLE download
Product Details
The substance of this work consists in lectures that were delivered in the Rochester Theological Seminary by T. Harwood Pattison. The lectures were left in the form of notes, which were revised, arranged, and enlarged by T. Harwood Pattison's son, Harold Pattison. This collection will be of value to those working in Christian ministry, as it offers practical suggestions and principles for pastoral work. It covers such topics as:
Health
The Call and the Office
The Minister at Work
Church Finance
Revivals
Is the Ministry Worth While?
It was the hope of the author that these few pages might prove to be helpful to those who are engaged in "the work of the ministry."
About the Author
Thomas Harwood Pattison (1838-1904) served as Professor of Homiletics and Pastoral Theology at Rochester Theological Seminary. He was also a prolific author of many books dealing with preaching and teaching such as The History of the English Bible, The Making of the Sermon, Public Worship, The History of Christian Preaching and many others.