Find this product on Logos.com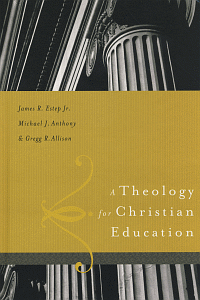 A Theology for Christian Education
Product Details
What is "Christian" about Christian education, and how does it differ from non-Christian education?
A Theology for Christian Education examines these questions in depth and contends that the doctrines of systematic theology should drive the content, purpose, and methods of the educational program of the Church. Specific insights on how theology and Christian education intersect come through comprehensive chapters on the nature of scriptural revelation, God, Christ, the Holy Spirit, humanity, salvation, and the Church. This book also includes a theological analysis of other educational philosophies and takes a closer look at Christian education as a theological discipline.
About the Authors

James Riley Estep Jr. is professor of Christian education at Lincoln Christian College and Seminary in Lincoln, Illinois. He holds degrees from Cincinnati Christian University (B.A., M.A., M.A., M.Div.), Southern Baptist Theological Seminary (D.Min.), and Trinity Evangelical Divinity School (Ph.D.).
Michael J. Anthony is professor of Christian education at Talbot School of Theology in La Mirada, California. He holds degrees from Biola College (B.A.), Talbot Theological Seminary (M.A.), Golden Gate Seminary (M.R.E.), Southwestern Baptist Theological Seminary (Ph.D.), and Claremont Graduate School (Ph.D.).
Gregg R. Allison is associate professor of Christian theology at Southern Baptist Theological Seminary in Louisville, Kentucky. He holds degrees from Northern Illinois University (B.S.) and Trinity Evangelical Divinity School (M.Div., Ph.D.).
Endorsements
Three patriots of ministry lead not a revolution but a reformation as Christian Education enters its third millennium. They bring outstanding credentials and experience to this crucial task and, more importantly, they succeed. Perhaps the key to the book lies in its clever blend of theology and Christian education. While dividing their chapters into traditional systematic categories, they approach those chapters in a fresh manner more reminiscent of biblical than systematic theology. The result brings forth a refreshing harmony of the two disciplines.