Find this product on Logos.com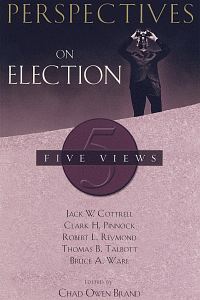 Product Details
Did God decide that certain specific persons would go to heaven or hell before He created the world? Did God know everything that will ever happen before He created anything? If so, did God know this because He determined those things would happen, or vice versa? Will everyone eventually go to heaven? Answers to these and many other thoughtful questions reveal various perspectives on the doctrine of election.
Perspectives on Election presents in counterpoint form five basic common beliefs on the doctrine of spiritual election (for example, predestination) that have developed over the course of church history with a view toward determining which is most faithful to Scripture. Each chapter is written by a prominent person within each tradition, and each writer has the opportunity to respond to each differing view.
Contributors
Bruce A. Ware, Divine Election to Salvation
Jack W. Cottrell, The Classical Arminian View of Election
Robert L. Reymond, A Consistent Supralapsarian Perspective on Election
Thomas B. Talbot, Universal Reconcilliation and the Inclusive Nature of Election
Clark H. Pinnock, Divine Election as Corporate, Open, and Vocational
About the Editor:
Chad Owen Brand is professor of Christian Theology at the Southern Baptist Theological Seminary. He also serves as Associate Dean of Biblical and Theological Studies at Boyce College.
Before coming to Louisville, he taught at North Greenville College. He has taught over 25 different types of courses and seminars and has delivered over 30 papers to groups such as the Evangelical Theological Society, the American Academy of Religion, The Society for Pentecostal Studies, Evangelical Ministries to New Religions, and The Baptist Center for Theology and Ministry at New Orleans Baptist Theological Seminary where he is also a Fellow.
Dr. Brand is the author of many articles and reviews in publications such as Trinity Journal, Journal of the Evangelical Theological Society, and Journal of Biblical Manhood and Womanhood, and is Book Review Editor for The Southern Baptist Journal of Theology. He is co-editor and author of the Holman Illustrated Bible Dictionary. He is also co-editor and co-author of The Apologetics Study Bible and many others.
Dr. Brand has served as pastor of two churches in Texas. He is also pastor of the Northside Baptist Church in Elizabethtown, Kentucky. He resides in Louisville, Kentucky.