Find this product on Logos.com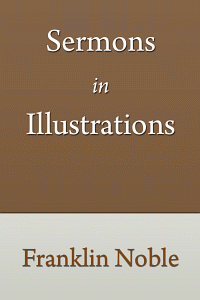 Product Details
These sermon sketches have all been preached in a pastorate, and the greater part of them were printed in older publications. They were printed as examples of a method of sermonizing which has commended itself in ordinary use. The method consists, as may be seen, in the free use of pictorial comparisons and narrative illustrations, while less effort has been made to prove a point by logical argument or citation of evidences, than to get the idea vividly in the hearer's mind, and there trust it to prove itself.
It is apparent that the Lord used stories and illustrations (not less than sixty pictorial images in the Sermon on the Mount) to demonstrate truth to His hearers. Experience seems to prove that nothing catches the mind's eye like a picture; nothing holds the ear like a story; and nothing clings longer in the memory, or, if well chosen, does more to convince men of spiritual truth than both used together.
These sketches have been arranged according to an order of themes. They are offered here in hope that some may be led to study more fully the picture-preaching of the Bible and especially of our Lord.
About the Author:
Reverend Franklin Noble III was a graduate of Union Theological Seminary where he earned his D.D degree. In 1861 he was the pastor of the First Presbyterian Church of Sandusky, Ohio until 1864. In 1866 he served as Missionary to the Atlantic Avenue Sabbath School until 1868 when he became pastor of the Church of the Covenant. He then served as Pastor of Christ's Presbyterian Church in 1875 and assumed pastoral charge of the South Congregational Church in 1889. In 1900 Noble was president of the American Missionary Association and served as vice-president of the Congregational Club in 1903.