Find this product on Logos.com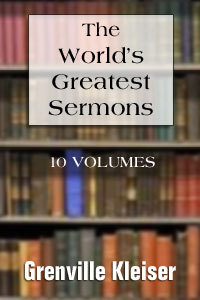 The World's Greatest Sermons
In Ten Volumes
This title works with the following Wordsearch products
Desktop
Highlights
Over 2400 pages worth of sermons
Biographical sketches for each preacher
Index to preachers and sermons
Product Details
The World's Greatest Sermons is an attempt to bring together the best examples of the products of the pulpit through the Christian centuries and to present these masterpieces in a convenient form. They will be found valuable as instruction to ministers and will serve to encourage the hearts of the laity today.
The sermons have been chosen in some cases for their literary and rhetorical excellency, but in every case for their helpfulness in solving some of the problems of Christian living. No two persons are likely to agree upon "the best" of anything, and readers will probably wish in particular instances that some other clergymen or sermons had been included. It is confidently believed, however, that the list here given is fairly representative of the preaching that characterizes the age to which each sermon respectively belongs.
While some of the sermons of the early centuries may not seem exactly fitted to modern needs, it is thought that those presented will repay careful perusal, since they each contain a distinct message for later generations. Moreover, a comparison extending over the whole field of sermonic literature, such as the preacher may make with this collection before him, should prove most valuable as showing what progress and changes have come over homiletic matter and methods. Such a comparison should in fact throw much light on the spirit and conditions of various homiletic periods.
This collection spans 10 volumes, or 2442 pages, and includes sermons by preachers whose works have been lost in the passing of time and by preachers that many of us are familiar with even today. Prefacing each sermon is a brief biological overview of the author of the sermon. An incomplete listing of preachers in this collection include:
Augustine
Basil
Bouraloue
Calvin
Fenelon
Edwards
Schleiermacher
Campbell
Bushnell
Guthrie
Macleod
Kingsley
Storrs
Maclaren
Bacon
Brooks
Talmage
Wilberforce
Nicoll
Drummond
Jowett
Compiled By:
Grenville Kleiser (1868-1935) was the author of several books on inspiration and humor. He was a former instructor in public speaking at Yale Divinity School, Yale University. One of his most famous quotes goes as follows, "Good humor is a tonic for mind and body. It is the best antidote for anxiety and depression. It is a business asset. It attracts and keeps friends. It lightens human burdens. It is the direct route to serenity and contentment." In addition to his lighter works, Kleiser also wrote books on personal development and guides to better oratory skill.