Find this product on Logos.com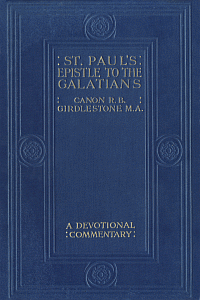 St. Paul's Epistle to the Galatians
A Devotional Commentary
Product Details
St. Paul's Epistle to the Galatians is a commentary that walks the reader through each section of the letter while examining key points along the way. Easy-to-read and understand, Girdlestone looks at the arguments, illustrations, reminders, convictions, and personal stories Paul uses to impress upon the Galatians the Gospel. Beyond the treatise of the epistle, Girdlestone examines the way of life that the book sets out for us and the key to the workings of the Holy Spirit in the lives of believers. This volume was originally a part of the series published by the Religious Tract Society, which included other volumes by W.H. Griffith Thomas, F.B. Meyer, Samuel Cox, J. Elder Cumming, H.C.G Moule and others.
About the Author
Robert Baker Girdlestone, M.A.,(1836-1923) served as the head of the translation department of the British and Foreign Bible Society, the principal of Wycliffe Hall at Oxford, Honorary Canon of Christ Church and as a minister of St. John's Downshire Hall.
Endorsements
A devotional exposition of exceptional value.