Find this product on Logos.com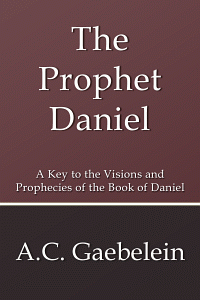 The Prophet Daniel
A Key to the Visions and Prophecies of the Book of Daniel
Product Details
The Book of Daniel with its great prophecies, both fulfilled and unfulfilled, is one of the most interesting portions of God's Holy Word. Prophecy is history prewritten. The center of all Prophecy and the goal as well is the Lord Jesus Christ. His sufferings and His Glory, His two Comings, as Man of Sorrows to suffer and to die, as King of Glory to reign were beheld and written in the prophetic Word. The history of nations, the times of the Gentiles, the present age in which we live, its course and end, the coming glories in a future age, all this and much more God has been pleased to reveal to us in His Word. By far the greater part of the Bible is Prophecy.
The importance of the Book of Daniel in many ways cannot be overestimated. These prophecies, which were given at a time when Israel was set aside nationally when the times of the Gentiles began, give a vista of the centuries down to the end, when God resumes His relation with His earthly people and sets up His own Kingdom from above. The Lord refers to Daniel in His great prophetic Olivet Discourse and the Book of Revelation is inseparable from the book of Daniel.
The goal of this work is to make the book of Daniel more readily understandable to the reader at large. Prophecy is discussed generally and how it applies specifically to the Book of Daniel and the coming of Christ. Special attention is given to the authenticity of the Book of Daniel and an end section includes questions and answers for deeper study.
About the Author
Arno Clemens Gaebelein (1861-1945) was born in Thuringia, Germany, immigrated to the United States, and settled in Lawrence Massachusetts. Early in his career he served as a Methodist minister, teacher, and conference speaker, but eventually left the Methodist church over issues of higher critical thought.
Gaebelein was a leader in the dispensationalist movement, and his books Revelation and Analysis and Exposition and Current Events in the Light of the Bible explain the dispensationalist view of eschatology. He also served as the editor of Our Hope, a Christian periodical, for a number of years and was a close assistant to Dr. Cyrus Ingerson Scofield on his monumental work, the Scofield Reference Bible.