Find this product on Logos.com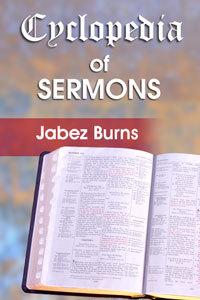 Product Details
In Cyclopedia of Sermons, one will find a collection of sermon outlines from the Old Testament, the New Testament, and other believers who preached the Gospel in times past. These sermon outlines are grouped into four loose categories:
Christian Missions
Types, Metaphors, and Parables of Christ
Special Occasions
Edification for Isolated Believers
Thought-provoking and helpful, these sermon outlines will benefit both preachers and laymen in their study and presentation of the Word of God. This volume was originally published in five small and distinct volumes, the content of all of which are comprised in this one volume.
About the Author
Jabez Burns (1806-1876) served as a Baptist minister in London for over forty years. An accomplished writer, Burns wrote several books including, Helps to Students and Lay Preachers, Retrospect of a Forty-Years' Ministry, and Mothers of the Wise and Good. Burns spent a number of years in Scotland where he preached and lectured in connection with the temperance movement, of which he was a leader. In 1846, the Wesleyan University of Connecticut gave him the degree of D.D., and in 1872, he was given an LL.D. by Bates College. Effective in ministry and highly esteemed as a preacher, public speaker, and writer, Bates passed away at the age of 70 on January 31, 1876.