Find this product on Logos.com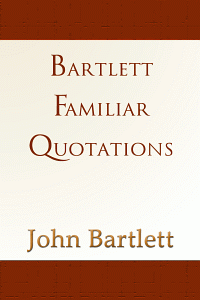 Highlights
The longest-lived and most widely distributed collection of quotations
Over 8,000 quotes
Product Details
Familiar Quotations is a collection of passages, phrases, and proverbs traced to their sources in ancient and modern literature. The book arranges its entries by author, rather than by subject and enters the authors chronologically by date of birth rather than alphabetically.
About the Author
John Bartlett was born in Plymouth, Massachusetts in 1820. A very bright boy, he was reading at age three and had read the entire Bible by nine. He finished school at age sixteen and went to Cambridge, Massachusetts, where he worked for the University Bookstore that served Harvard. By age twenty-nine he owned the store. Bartlett became known as a resource for quotations to the degree that he earned the reputation of "Ask John Bartlett" around campus.
He began keeping a commonplace book of quotations to answer queries and in 1855 privately printed the first edition of his Familiar Quotations. That edition of 258 pages contained entries from 169 authors. One-third of the book was quotations from the Bible and from the works of William Shakespeare, most of the balance being lines from the great English poets.
Bartlett sold the bookstore in 1862 to become a paymaster in the United States Navy during the Civil War. He served on the South Atlantic station, returning to Boston in 1863 to join the firm Little, Brown and Company. That same year, Little, Brown issued the fourth edition of his quotation book. He rose to be the firm's senior partner in 1878 and retired from the firm in 1889. In addition to work on quotations (he oversaw nine editions of his book), he wrote on fishing, and chess, and compiled a massive concordance of Shakespeare, published in 1894, that is still the standard work of its kind. The concordance, Bartlett estimated consumed 16,000 hours of his time.
Bartlett was a fellow of the American Academy of Arts and Sciences and received an honorary degree from Harvard in 1871. Bartlett died in Cambridge, Massachusetts at age 85. He is buried in the Mount Auburn Cemetery in Middlesex County. His Familiar Quotations is now in its seventeenth edition and is still published by Little, Brown.
Endorsements
The most popular book of quotations available today.