Find this product on Logos.com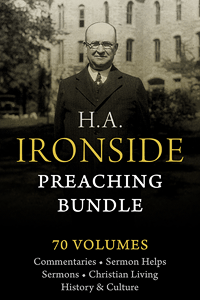 H.A. Ironside Preaching Bundle
Product Details
Dr. Harry A. Ironside was one of the most creative and articulate expositors of the 20th century. The H.A. Ironside Preaching Bundle is a rare, hard-to-find collection of 70 volumes of Ironside's work. Very few authors deliver the preacher useful sermon helps like Ironside. Included are his commentaries, sermons, sermon helps, theology works, his own personal Bible notes, and more.
Browse jut one Ironside commentary and you'll be hooked. His Bible insight is astonishing. The H.A. Ironside Preaching Bundle includes his commentary for the entire New Testament, plus 24 books of the Old Testament.
Also included are:
17 volumes of Ironside's sermons. Much of what he says in his sermons could easily be applied to creating many lessons on a variety of Bible texts.
5 volumes of sermon helps
A book on prayer
2 books on Christian living
A volume of sermon illustrations. Wordsearch makes it easy to find exactly what you need for any Scripture or topic and to apply it to your sermon or lesson. Ironside's personal Bible - the one he used every day for his own studies. Every page is packed with personal notes and observations in the margins. It reads like a concise commentary.
9 theology volumes
A devotional
A biography
A rare volume on the 400-year intertestamental period
You'll benefit from a lifetime of scholarship. Most of Ironside's works have gone out of print and are now hard to find. This is one of the most complete collections of Ironside works available.
Check out a sample by clicking on the Sample button.
For more details, watch the demonstration video below.
About the Author
Henry Allen "Harry" Ironside, (1876-1951) was a preacher, writer, missionary, and professor who was inspired by Dwight L. Moody to begin preaching at the age of 14. Throughout his life he preached at his home church of 4,000 and around the world to crowds upwards of 2,000.
Endorsements
It is a rare combination, indeed, when a man is both a master of Bible exposition, based on a lifetime of arduous study, and an outstanding author from the standpoint of clarity, accuracy, and popular style. All of this is noticeably true of Dr. H. A. Ironside, Pastor of the great Moody Memorial Church, Chicago. I anticipate that his new book, "Except Ye Repent," will prove a great spiritual uplift to thousands everywhere. I congratulate the American Tract Society on the possession of this book, and commend it without hesitation as I do all that Dr. Ironside has written."
Dr. Harry A. Ironside is undoubtedly one of the greatest living expository preachers...One evidence of his greatness is the fact that he preaches to audiences of three to four thousand people in his own church twice each Sunday. He is a man of spiritual depth as well as breadth of general and Biblical knowledge.
Dr. Ironside might well win a prize in a sermonic competition. Very few preachers in America have preached to larger congregations, with more effective results. For a lifetime he has ministered to every kind of a congregation, ever with one supreme purpose—to exalt Christ in such a way that men should be drawn to Him and everywhere God has honored his teaching and his testimony.
Dr. Ironside not only knows the Bible with amazing thoroughness, digging deep below the surface into its treasures, but he knows how to share his findings with others in simple, straightforward, revealing, and convincing writing. His teachings are sane, well balanced, scholarly, and spiritual. Withal is a humanness and, on occasion a touch of humor that gives added charm to his messages.
Products Included In This Bundle