Find this product on Logos.com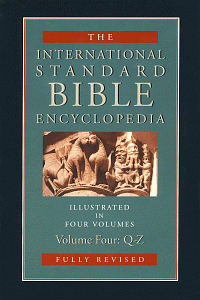 International Standard Bible Encyclopedia (ISBE) Revised
Highlights
Completely updated in four volumes with 4,466 pages, 9,000 topics, and 3,500 cross-references
Covers every person and place mentioned in the Bible
All Hebrew, Greek and Aramaic words are transliterated
A wealth of illustrations, nearly 1,500 photos (many in color), plus 342 maps
The most up-to-date, multi-volume Bible encyclopedia written by conservative scholars
Based on the Revised Standard Version
Named as one of the 850 Books for Biblical Expositors by the Master's Seminary
A favorite of Pastor Chuck Smith
Named by the R. C. Ryan Center for Biblical Studies as one of the Best Tools for Preaching and Teaching
Product Details
Representing the scholarship of hundreds of evangelical contributors from many specialized fields of biblical research, this encyclopedia includes articles on the following: every person and place mentioned in the Bible; all the terms in the Bible that have theological or ethical meaning; and the transmission, study, and interpretation of the Bible. Based on the Revised Standard Version, International Standard Bible Encyclopedia contains cross-reference entries for forms used in the King James Version and the New English Bible, making it readily accessible to a wider range of readers.
The International Standard Bible Encyclopedia contains over 9,000 topics and 3,500 cross-references. It examines major Bible doctrines and provides opposing articles on controversial topics to ensure a rounded explanation and description. The Dead Sea Scrolls, the Apocrypha and other extra-biblical resources are utilized and explained. A must have for any biblical scholar.
Endorsements
I use this set more than any other reference work I own. Great articles on every major doctrine, person, place, and event in the Bible. This one ... is indispensable!