Find this product on Logos.com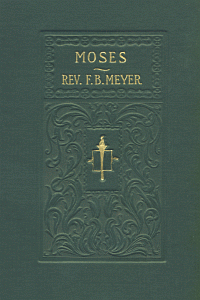 Heroes of the Bible - Moses
The Servant of God
Product Details
Moses: A Servant of God is a part of F. B. Meyer's Heroes of the Faith series. In this volume, Meyer uses Old and New Testament scriptures to give us an honest account of Moses - how he did not spring at a leap to the throne on which he has sat through the ages, but how his character took years to form, and that his mighty deeds were due, not to some rare combination of personal qualities, but to the faith which he had in common with the rank and file of the great army of the saints. The book is an attempt to show Moses as a man like any other man; with great qualities that needed to be developed and improved; with flaws that veined the pure marble of his character; with deficiencies that had rendered him powerless but for the all-sufficient grace that he learned to appropriate; and that he wrought his life-work by the simplicity of his faith, by communion with God, and by becoming a channel through which the Divine purpose was achieved.
About the Author
One of the greatly loved preachers of his day, Frederick Brotherton Meyer was a pastor, author, Bible teacher and evangelist. He was born in London in 1847.
Dr. Meyer began pastoring in 1870, and in 1872 he went to Priory Street Baptist Chapel. There he met D. L. Moody, who made a lasting impression upon his life and taught him valuable spiritual lessons. These two godly men formed a lifelong friendship.
During his long and fruitful life, Meyer preached more than 16,000 sermons. Said one author: "The phrasing of Meyer's sermons was simple and direct; he polished his discourses as an artist polishes a perfect stone. There was always a glowing imagery in his words; his speech was pastoral, lovely as an English valley washed in sunlight…In his day, great wars raged. Those who went to hear him forgot the battles."
A distinct feature of Meyer's ministry was his outcry against the social evils of his day. Not only was he effective in the temperance movement, but he was also responsible for the closing of over 500 houses of prostitution. He also formed a prison aid society.
A devoted student of God's Word, he was the author of over 40 books, including: devotional commentaries, sermon volumes and expository works. He also authored several pamphlets and edited a number of magazines.
Endorsements
F. B. Meyer preaches as a man who has seen God face to face.