Find this product on Logos.com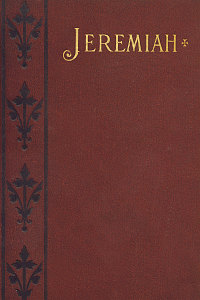 Heroes of the Bible - Jeremiah
Priest and Prophet
Product Details
Jeremiah has always been a fascination to Christian hearts, because of the close similarity that exists between his life and that of Jesus Christ. Each of them was "a man of sorrows, and acquainted with grief"; each came to his own, and his own received him not; each passed through hours of rejection, desolation, and forsakenness. And in Jeremiah we may see, beaten out into detail, experiences which, in our Lord, are but lightly touched on by the evangelists.
This book seeks not to write a history of the last days of the monarchy of Judah, but to tell only so much of the general story as is needful to elucidate the part Jeremiah was called to play. The great personality of this man is hoped to be made more familiar through this work that it might encourage those who are compelled to stand alone, who fall into the ground to die, who fill up what is behind of the sufferings of Christ, and through death arise to bear fruit in the great world of men, which they passionately love.
About the Author
One of the greatly loved preachers of his day, Frederick Brotherton Meyer was a pastor, author, Bible teacher and evangelist. He was born in London in 1847.
Dr. Meyer began pastoring in 1870, and in 1872 he went to Priory Street Baptist Chapel. There he met D. L. Moody, who made a lasting impression upon his life and taught him valuable spiritual lessons. These two godly men formed a lifelong friendship.
During his long and fruitful life, Meyer preached more than 16,000 sermons. Said one author: "The phrasing of Meyer's sermons was simple and direct; he polished his discourses as an artist polishes a perfect stone. There was always a glowing imagery in his words; his speech was pastoral, lovely as an English valley washed in sunlight…In his day, great wars raged. Those who went to hear him forgot the battles."
A distinct feature of Meyer's ministry was his outcry against the social evils of his day. Not only was he effective in the temperance movement, but he was also responsible for the closing of over 500 houses of prostitution. He also formed a prison aid society.
A devoted student of God's Word, he was the author of over 40 books, including Bible biographies (character studies), devotional commentaries, sermon volumes and expository works. He also authored several pamphlets and edited a number of magazines.
Endorsements
F.B. Meyer preaches as a man who has seen God face to face.