Find this product on Logos.com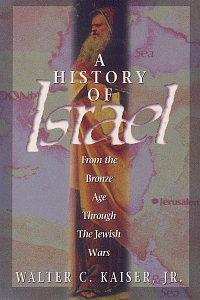 A History of Israel
From the Bronze Age through the Jewish Wars
Highlights
Named as one of the 850 Books for Biblical Expositors by the Master's Seminary
Current approaches to the study of the history of Israel
Common fallacies found in modern secular historical study
The most convincing proofs for the historical authenticity of the Bible
Product Details
A History of Israel refutes many of today's common misconceptions about Israel and sets down an accurate account of its history, from the Patriarchal Age to the birth of Christ, based on the Holy Scriptures. With his customary thoroughness and attention to detail, Walter C. Kaiser, Jr. has carefully researched his subject, assembled the facts, and conveyed his findings in a convincing narrative style. Kaiser not only uses the Bible as a resource, but also supports Scriptures' historical claims with ancient Eastern documents and compelling archaeological evidence.
Bold and uncompromising, A History of Israel scrapes away the layers of time to reveal the truth about the land and the people of God's chosen race.
About the Author
Walter Christian Kaiser, Jr. was born into a German Baptist home in Folcroft, Pennsylvania in 1933. Kaiser entered Wheaton College in 1951. While at Wheaton he majored in Bible and minored in Greek and philosophy. Kaiser worked his way through both college and seminary, still finding time to sing in the chapel choir and to teach in Sunday schools on Chicago's South Side.
By his own reckoning, Kaiser's interest in the Old Testament was first sparked by a high school biology class in which the Genesis account was kindly, but firmly, debunked. When Kaiser dared to voice another opinion, he was challenged to do a report that would convince his teacher otherwise. Undaunted, Kaiser prepared a forty-page paper complete with anthropological drawings and bibliography. His interest in the Old Testament continued while at Wheaton College. During his last year, in addition to teaching two senior apologetics courses at Wheaton College, Kaiser served as assistant pastor at the Geneva Baptist Church.
After graduating from Wheaton Graduate School in 1958, Kaiser taught full-time at Wheaton College. During the summer months he pursued further graduate studies in Old Testament and ancient history at Brandeis University. His course of study at Brandeis included Middle and Late Egyptian hieroglyphics, Ugaritic, Homeric Greek, biblical Hebrew, Old Babylonian cuneiform, Assyrian cuneiform, and the history and archeology of the ancient Near Eastern empires.
In the late fall of 1963, Kaiser was asked to teach a class at Trinity Evangelical Divinity School. In the fall of 1966 he joined the Trinity faculty on a full-time basis. In 1980 Kaiser assumed the responsibilities of vice president and academic dean of Trinity and continued in that office until June of 1992. In the fall of 1993 he accepted and invitation from Gordon-Conwell Theological Seminary to serve as the first Colman M. Mockler Distinguished Professor of Old Testament. In 1997 Kaiser assumed the presidency of Gordon-Conwell while retaining the Mockler chair. Kaiser retired from the presidency of Gordon-Conwell on July 1, 2006. Currently he is President Emeritus and Distinguished Professor of Old Testament and Ethics at Gordon-Conwell Theological Seminary in Hamilton, Massachusetts.