Find this product on Logos.com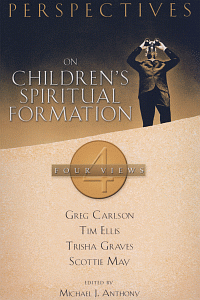 Perspectives on Children's Spiritual Formation
Four Views
Product Details
How Is the Faith of a Child Best Developed?
Perspectives on Children's Spiritual Formation presents in counterpoint form the four major views on how faith is cultivated in children and their respective methods of Christian Education with a goal of clarifying which one is most faithful to Scripture. A prominent representative within each category writes his or her corresponding main chapter, and all contributors respond to all presented viewpoints.
Views and methods detailed here include the Contemplative-Reflective Model (cultivating a quiet, worshipful spirit), Instructional-Analytic Model (involving child evangelism and Bible memorization), Pragmatic-Participatory Model (focusing on high-energy activities, often seen in megachurches), and the Media-Driven Active-Engagement Model (using video-based curriculum with limited teacher training).
About the Editor
Michael J. Anthony is professor of Christian Education at Biola University, Talbot School of Theology. He received his Ph.D. from Claremont Graduate School and has authored several books on Christian education. Anthony lives in Irvine, California.