Find this product on Logos.com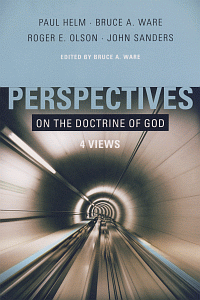 Perspectives on the Doctrine of God
Four Views
Product Details
What Is the Nature of God, and How Does He Relate to the World He Has Made?
These questions are irresistible to ponder. The Bible says, "For who has known the mind of the Lord? Or who has been His counselor? Or who has ever first given to Him, and has to be repaid? For from Him and through Him and to Him are all things"(Romans 11:34-36a HCSB).
Perspectives on the Doctrine of God presents in counterpoint form how certain common beliefs about the doctrine of God and His providence - e.g., infinite all-knowingness, transcendence of time and space, love and sensitivity for His creation - have developed over the course of church history, aiming to determine which view is most faithful to Scripture.
About the Contributors

Paul Helm is a Calvinist theologian and Teaching Fellow at Regent College in Canada since 2005. Helm has also taught at Highland Theological College since 2007 and was the J.I. Packer Professor of Theology and Philosophy at Regent College from 2001-2005. Prior to these positions, he was Professor of the History and Philosophy of Religion, King's College, London, from 1993-2000. Helm earned his BA and MA from Oxford.
Bruce Ware is an evangelical theologian and author. He is currently Professor of Christian Theology at Southern Baptist Theological Seminary. Formerly, he was at Trinity Evangelical Divinity School where he served as Associate Professor and Chairman of the Department of Biblical and Systematic Theology. Prior to this, he taught at Western Conservative Baptist Seminary and at Bethel Theological Seminary. Dr. Ware has written numerous journal articles, book chapters, and book reviews. Ware received M.Div. and Th.M. degrees from Western Conservative Baptist Seminary, a M.A. from University of Washington, and his Ph.D. from Fuller Theological Seminary.
Roger Olson holds degrees from Rice University, North American Baptist Seminary and Open Bible College. He has written numerous articles for such publications as Christian Century and Christianity Today. His recent books include The Story of Christian Theology: Twenty Centuries of Tradition and Reform and Who Needs Theology? with Stanley J. Grenz. Olson received two awards for The Story of Christian Theology including a Gold Medallion from the Evangelical Christian Publishers Association for 1999. In 1993 he and co-author Mr. Grenz received Christianity Today's award for best book in theology/biblical studies for 20th Century Theology: God and the World in a Transitional Age. Dr. Olson was the editor of Christian Scholar's Review.
A past president of the American Theological Society (Midwest Division), Olson has been the co-chair of the Evangelical Theology Group of the American Academy of Religion for two years. An expert in historical theology, he is a frequent preacher, teacher and speaker for local churches and organizations.
John Sanders,Th.D., University of South Africa, is professor of religion at Hendrix College in Conway, Arkansas. He has edited and written several books, including No Other Name: An Investigation into the Destiny of the Unevangelized. Three of his previous book projects have received a Christianity Today Book Award.